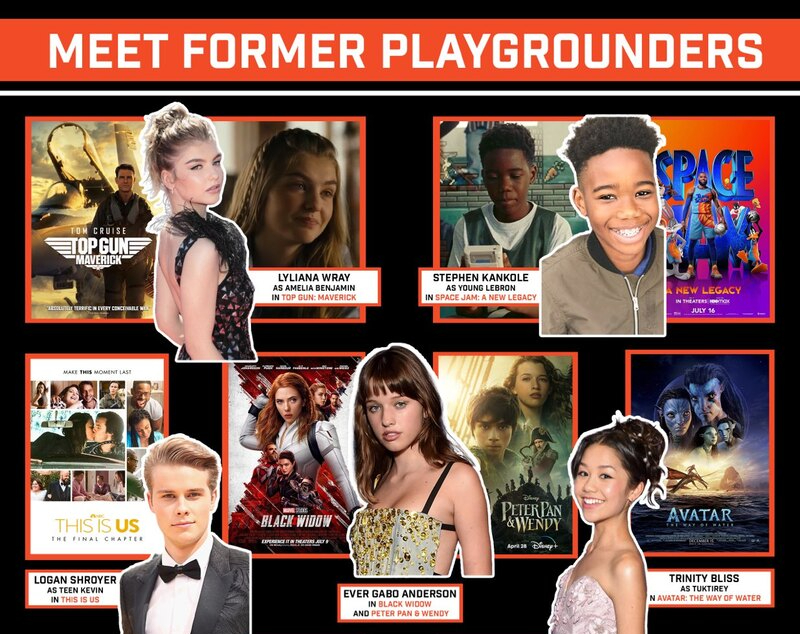 Free Acting Class (Ages 5- 17)
This Wednesday, September 27th from 7pm – 8:30pm. There are only 3 open spots remaining. Register now!
*We respect your privacy. We do not share or sell personal information.
The Playground Commercial
Frequently Asked Questions About Our Acting Classes 
Who is Gary Spatz?
Gary Spatz is one of the top child acting coaches in the world with over 25 years of experience working with children for entertainment industry projects including the Mickey Mouse Club, Roseanne, Everybody Loves Raymond and many more.  Gary is still sought after to work with young actors for film and television projects.  Gary has worked with many of the most successful young actors/performers in Hollywood from Britney Spears, Christina Aguilera, Ryan Gosling and Justin Timberlake to Dylan and Cole Sprouse!  A complete list of Gary's projects is available on IMDb.
Do Agents Refer Their Clients to "The Playground"?
Absolutely!  We meet with everyone who is interested in learning about acting, but many of our students come through agency referral.  We also have students who are the children of studio executives, producers and directors.  We regularly invite industry insiders to our performance nights, where some of our more experienced students showcase their skills. This enables us to show agents and managers the quality of our program so that they will continue sending their clients to us. It's essential for the sustainability of our own business that we keep the favor of the Industry by doing right by our students—and we do!
Is "The Playground" an Acting School?
Yes, and so much more. The Playground is a young actor's conservatory: a place where students are immersed in the craft of Television and Film Acting.  Young people of all ages look forward to coming here and taking part in our carefully crafted curriculum, a curriculum that has been personally designed by Gary Spatz.  We are extremely proud of our record.  Our clients include Ashley Argota, Jadagrace, Nate Hartley, India Eisley, and Kay Panabaker*.  Gary Spatz's former students include Justin Timberlake, Britney Spears, Dylan and Cole Sprouse and many, many more.  A complete list of our former students can be found here.
*Ashley Argota is the star of True Jackson, VP. Jadagrace had a lead roll in Terminator Salvation.Nate Hartley has multiple Television and Film credits. India Eisley is a series regular on "Secret Life of the American Teenager". Kay Panabaker has starred in a number of Films.
What Ages Do You Work With?
We work with kids as soon as they are mature enough to benefit from acting classes. Our youngest program is for 6 – 8 year old children. Our Preteen's Program is for children between the ages of 9 – 12 years old.  The Teen's Program is offered to students between the ages of 13 – 19 years old. Our oldest age group is our young adults ages 18+.
How Much Does Your Acting Classes Cost?
There are a number of different programs at The Playground with prices that range from a few hundred dollars to several thousand dollars. The Playground offers Children, Preteen, Teen, Beginner, Advanced, and Professional courses, each with different duration's and fees.  The Playground also offers private training for specific auditions and/or jobs.  We always work to create a program that fits your budget.
Do You Accept Everybody? What Are The Requirements To Attend Your Acting Classes?
The Playground does not accept everyone.  Our acceptance rate is about 20% of all the prospective students we meet.  We have high expectations of students at The Playground and we look for students with a high level of interest, dependability, and potential for success in the industry.  We only want the best students because our relationships within the industry depend on the quality of our students.  When our clients meet with the best agencies and casting directors in Los Angeles, their conduct is a direct reflection of our training.  Our relationship to the industry is excellent because we are known for working with only the most talented, enthusiastic and professional candidates.
Does Acting Classes Make a Difference?
Acting classes make all the difference in the world.  The entertainment industry is fast-paced and constantly changing.  Agents and directors need faces and talent now.  These busy professionals vastly prefer a well-prepared candidate to one who lacks polish, experience or training.  On rare occasions, a completely raw actor will get a break, but most actors work hard for their success and young actors are no exception.
What is Your Success Rate?
Our most important measure of success is the happiness of our clients.  We are exceptionally successful with that! (Over 80% of our students sign up for another course when their first one ends.)  We prefer to define success at The Playground by asking if the "Talent" (your child!) benefited from the program.  Are they prepared for success in life and do they have the tools they need to succeed? When that's the question, we believe our success rate is 100%. Agents, managers and casting directors seem to agree, as they regularly refer their clients, and their children, to us.
What Are The Guarantees?
We guarantee the quality of our acting classes.  We guarantee that if someone attends our acting classes consistently, and works at their craft, that they will improve themselves in several categories of life. Some of the improvements students at The Playground often experience include:
Better speaking ability
Better listening skills
Improved reading comprehension
Improved school performance
Increased confidence
We cannot, however, guarantee agent representation or entertainment employment because we are an acting school, not a talent agency.
What Are The Benefits of Attending Acting Classes at The Playground?
The Playground is first and foremost an acting conservatory and we give students the tools they need to succeed, not only as actors, but also in life.  We have also heard repeatedly from parents that their children have gained better speaking ability, better listening skills, improved reading comprehension, improved school performance and, of course, increased confidence, after attending our program.  Many of our students who are not native English speakers also experience amazing improvements in their language skills and comprehension.
Will This Interfere With School?
No. All of our regularly scheduled classes are on weekends, leaving plenty of time for academic studies.  In fact, the biggest comment we get from parents is about INCREASED performance at school.
What is Your Refund/Cancellation policy?
The Playground's policy is that you may cancel your contract within the first two weeks of the program and still receive a full refund.
What Are Your Instructors' Qualifications?
Our acting instructors are active industry professionals with experience doing film, television, commercials and live theater.  All have studied acting at a college or university—some have a Master of Fine Arts degree in Theater, as well as years of experience teaching acting to children.  More importantly, they all have a passion for teaching young people and helping them to develop their talents.  Our instructors are consistently given high praises from parents and students. Read more about them on our "meet the staff" page.
Can I Speak With Someone Who Has Attended Acting Classes at The Playground?
Yes!  Please come down to The Playground on the weekend and you will have a chance to speak with other parents as they drop-off or pick-up their children. We can introduce you to them or you are welcome to speak to them on your own.  Of course, since this is a facility that serves young people, you will have to be escorted by one of our staff members if you want to take a tour of our state of the art facility, but we're happy to help!
How Do I Know This is a Legitimate Acting Program?
Gary Spatz, the director of The Playground, has a 30+ year history working with the biggest entertainment companies in Hollywood, and he continues to work for them today. Companies like Disney, Carsey-Werner and CBS turn to Gary and The Playground for help with their most precious talent—the children who work for them. Co-President of SAG-AFTRA, the largest acting union in the world, gave Gary and The Playground an exemplary endorsement for the work done in training young industry professionals. The Playground, which was established in 2005, is Licensed and Bonded with the State of California to offer Talent Services. Get started with the Playground Acting Conservatory now!